The Arts Park and Pavilion: Rental of the Park and Pavilion includes the Gazebo, the concession/kitchen area and two restrooms. The entire area is rented for the day (8am to midnight). The Pavilion is a 195′ X 150′ facility. There are electrical outlets located throughout the Pavilion and a large stage.  The Park is a beautiful, natural landscape of trees, flowers, a pond and paths and benches throughout. Parking is available in the large public lot south of the Park and along 15th street at the west edge of the Park. Both parking areas have access to the Park.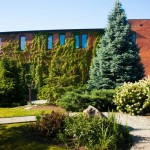 Park & Pavilion:

Saturdays: $500.00 + $300.00 damage deposit

Fridays: $400.00 + $300.00 damage deposit

Sunday – Thursday: $200.00 + $300.00 damage deposit

If alcohol is sold: $1000.00 + $1000.00 damage deposit
(License, insurance, security is required)

$60 additional fee for events with over 200 guests (Mondays – Sundays)
Tables and chairs are available to rent for $7.00 a table and $1.00 a chair.
All prices are subject to change. Call for details.
To download our rental agreement click below
Comments are closed.