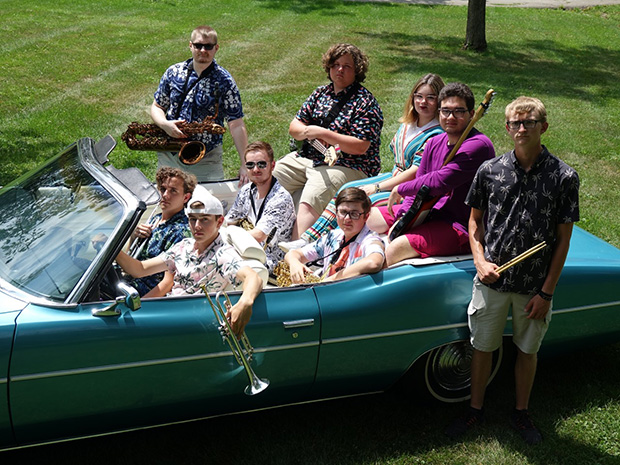 Local Band "Hot Take" Performing at Arts Park
Date: August 17, 2022
Time: 6 pm
Location: Arts Park
Band members of local group, "Hot Take" will be driving their performance of 70s
and funky music.
The free concert is part of the Henry County Youth Concert Series.
Everyone is invited.
Local rock band, "Hot Take" – composed of mostly 16- and 17-year-olds will be performing on stage Wednesday, August 17 at 6 pm at the Arts Park in New Castle.
The group formed six months ago when New Castle High School Band member guitarist, and front man, Jasper Wright, started practicing the music of the 70s with fellow band members. "Hot Take" will be bringing the brass, drums, guitar, and bass together for a funky show for listening or dancing.
Members of the group include siblings and cousins, Jasper Wright, 16, lead guitar; Isabel Wright, 16, vocalist; Nick Huffman, 17, lead trumpet player; and friends, Carter Bersch, 18, tenor sax; Noah Cauthern, 17, bass; Vincent Farris, 15, trumpet; Edison Hay, 16, alto sax; Jonathan Wells, 17, drums; and David Wilkinson, 20, baritone sax.
All have been or are currently in New Castle High School Band.
"When I joined band – it brought me out of my shell and I wanted to learn other instruments and learn to write and arrange music," said Wright, who also plays the bassoon and saxophone.
The musicians and Wright were inspired from their accompaniment with New Castle Show Choir, "Red Hot Blues" (RHB) 70s show, "Hip to the Groove" where his sister, Isabel, and cousin, Will Huffman, were members.
"With Isabel's RHB show and Nick as part of that backup band, I was exposed to a lot of dance music and that kind of got me going," said Wright.
"After practicing and playing the Chicago hit song from the 70s, "25 or 6 to 4" at the All-City Band Festival in the Fieldhouse with a good group of people, I realized we worked really well together, it made sense to continue doing music," he added. "We do a lot of funk music and try to utilize every instrument we have. We'll also add a couple of rock songs to the show to add some nice variation."
Wright says he was influenced toward music from his dad, who plays guitar and has been in bands, and his sister, vocalist, Isabel Wright.
"She has been singing her whole life and she is awesome. She can learn almost anything from listening to it once, and her harmonies are always on point," he added.
The show is part of the Youth Concert Summer Series, provided by the Art Association of Henry County, "Henry County's Got Talented Teens.
"The concerts are Free and according to Vicki Bertram, Executive Director, "We hope to see a lot of people come out and support these kids."
The Arts Park Pavilion is located at 218 S. 15th Street in New Castle.