Lift Up and Light Up Henry County
Thank you for your donation, social media shares, and interest in Lift Up and Light Up Henry County.
Because of you, we can replace the bases of the columns of the Pavilion so that we may continue to host the year-round concerts, festivals, weddings, and events that have become a vital asset to our community and create The First Annual Holiday Lights Festival.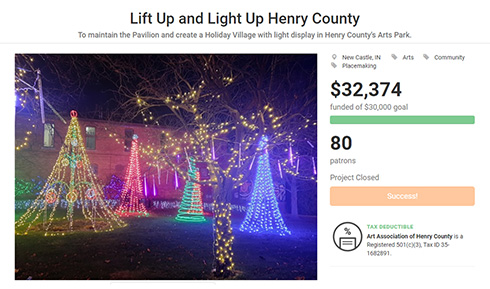 We have the opportunity to receive a $30,000 CreatINg matching grant through the Indiana Housing and Community Development Authority, but ONLY if we raise $30,000 first!
The Art Association of Henry County is asking the community to assist in replacing the bases of the Arts Park Pavilion and to "Light up the Arts Park," as part of a Holiday Village. We will be running an online crowdfunding campaign from August 24 through October 8, 2022. The light show will run Dec 1, 2022 into 2023.
The Pavilion, set in our beautiful Arts Park, is a gathering place for concerts, festivals, and events both public and private. It is a lovely venue for weddings, parties and celebrations. The bases of the columns are in need of replacement in order to maintain this historic building and preserve this community venue. We would like to be a shining beacon of light this coming Holiday Season. Join us as we "Lift Up and Light Up" Henry County!
"CreatINg Places is a crowdfunding program, established by the Indiana Housing and Community Development Authority (IHCDA) to support great public spaces in Hoosier communities. IHCDA has partnered with Patronicity."
Please visit https://www.patronicity.com/project/holiday_village#!/ to donate online. If you would prefer to give in person, stop by the Art Center at your convenience. We accept cash, check, credit & debit cards.