An American artist associated with the pop art movement.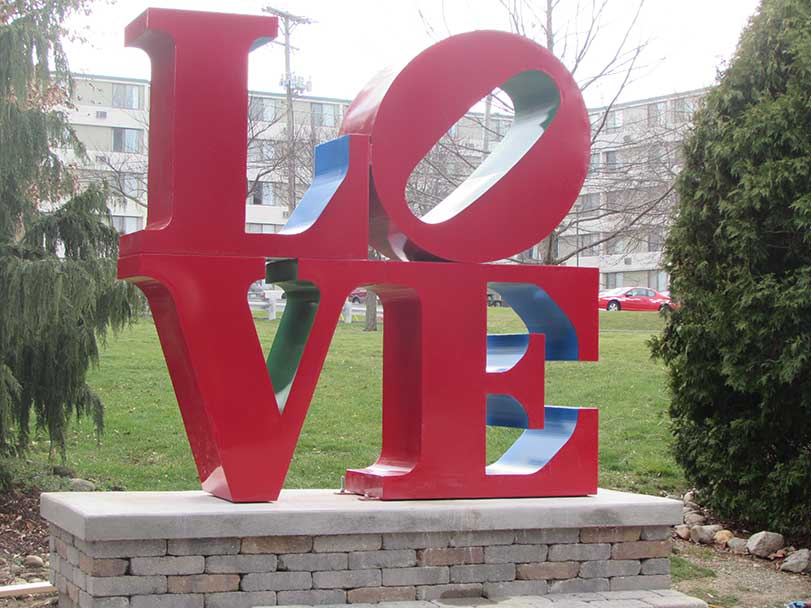 Riobert's work is in the collection of individuals, museums and businesses around the world.  His accolades include:
Exhibit: Galerie Schmela, Düsseldorf, Germany
Exhibit: The Stable Gallery, New York City, NY

Exhibit: The Padiglione d'Arte Contemporanea, Milan, Italy

Commission: Designed Museum of Modern Art (MOMA) Christmas card.
Commission: Designed Center Opera Company sets, costumes, and poster (The Mother of Us All.)
Commission: Designed the floor of the MECCA Arena's basketball court, Milwaukee, WI
Imperial LOVE (1966) reproduced on the album cover of Olivier Messiaen's Turangalîla-Symphonie (RCA)
LOVE stamp issued by the USPS
White/red NUMBER 7 installed in Monte Carlo for the 700th anniversary of the Grimaldi family's rule of Monaco.
LOVE's Origin - Robert Indiana
A man who grew up in New Castle, IN.
The iconic LOVE image was the creation of Robert Indiana. Robert Indiana was born Robert Clark in New Castle in 1928. He spent the first 17 years of his life living in Indiana moving frequently between cities and eventually lived in 21 different homes. After his parents divorced, he relocated to Indianapolis to live with his father so he could attend Arsenal Technical High School (1942–46). After serving for three years in the United States Army Air Forces, he studied at the Art Institute of Chicago (1949–53), the Skowhegan School of Painting and Sculpture in Maine (summer 1953) and Edinburgh University and Edinburgh College of Art (1953–54). He returned to America in 1954 and settled in New York City.[1] There he began making art with his distinctive "hard edge" style. Since 1978 he has lived in Vinalhaven, Maine in an old Victorian home he has named "The Star of Hope".
Indiana's work often consists of bold, simple, iconic images, especially numbers and short words like EAT, HUG, and, his best known example, LOVE. The LOVE icon first appeared in a series of poems written by Robert Indiana in the 1950's where he arranged the letters in a square and tilted the "O". The red/blue/green image was then created for a Christmas card for the Museum of Modern Art in 1964. In 1970 the first of many sculptures was created and displayed in Indiana at the Indianapolis Museum of Art. Then in 1973, the image was used by the United States Postal Service for an 8 cent stamp. Indiana's LOVE design has been reproduced in a variety of formats for rendering in displays around the world. Versions of the sculpture now exist in Hebrew, Chinese, Italian and Spanish.
To find out more about Robert Indiana and see many more great pictures, please visit Aaron Dicken's blog fromindianawithlove. He and Richard Bouslog traveled to Maine and spent an afternoon with Robert Indiana in his home in Vinylhaven.